Our sparkling wines porfolio includes Frontera and Wolfblass Brut.
Boschendal Brut Chardonnay Pinot Noir |
South Africa
Pale gold with a flourish of delicate bubbles and enticing lemon cream and almond Biscotti precedes lovely layers of citrus and a finish with appealing length and freshness. Maturation on the lees provides a well-rounded, creamy mouth-feel with mouthwatering minerality, good balance, and a seamless finish. Enjoy well-chilled as on its own or as the perfect partner for panko-crusted prawns with lemon-garlic aioli, gourmet mac, and cheese with parmesan and pancetta, or fresh oysters.
Boschendal Brut Rose |
South Africa
This Brut Rosé captivates with its delicate pale pink colour and intoxicating red fruit aromas which further delight the palate with hints of strawberry, raspberry, and cherry flavours. Indulgent enjoyed on its own or with an eclectic range of delicious dishes, like smoked salmon salads, brie, and prosciutto pizza, or creamy choux éclairs for a sweet indulgence.
Franschhoek Cellar Brut Royale |
South Africa
Light gold with the playfulness of delicate bubbles. Enticing lemon cream and almond biscotti lead with a soft burst of fresh lemon and orange peel.
Franschhoek Cellar Brut Rose |
South Africa
A salmon-pink blush complemented by a seductive brisk sparkle. Fun and flirtatious with bubbles that burst gently on your tongue. Aromas of raspberries, strawberries and pomegranate and other subtle red berry flavours.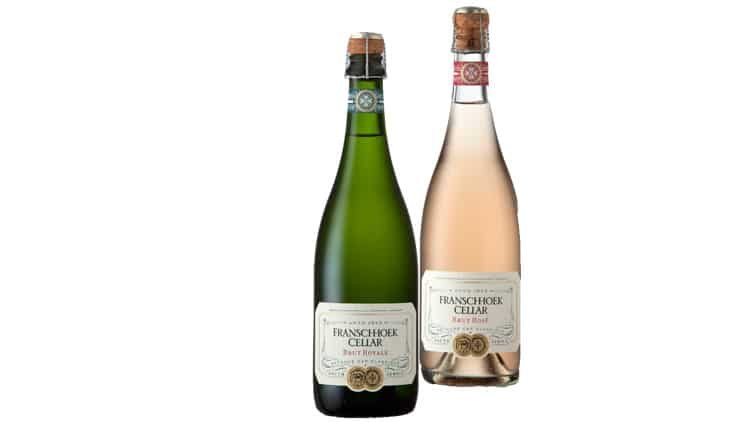 Wolfblass Eaglehawk Cuvee Brut |
Australian
Zesty Citrus and sherbet aromas, with refreshing apple ad melon flavors on the palate. Ideal partner with canapes and hor's d'oeuvres. Serve chilled.
A pale pink bubbly wine in color, with red fruit flavors and notes of yeast. Fresh persistent, and balanced. Drink alone, or with appetizers, seafood and dessert.
A greenish-yellow sparkling wine, with intense fruit aromas and notes of yeast, fresh, persistent and well balanced. Enjoy it with soft-flavored fish and seafood.
For those who love a fruitier bubbly, the sparkling wine is ideal for dessert, persistent, fresh and well balanced.