Penfolds Koonunga Hill Shiraz Cabernet |
Australia
Cabernet markers take immediate ascendency through green olive, Italian pasta, and rosemary lamb notes. Cola reminds us of the reassuring role of oak. Alluring scents of curry/spice are finally revealed. As with the nose, Cabernet varietal characters dominate – pink peppercorn, Asian spices, soy, bay leaf and a grainy tannic structure. Sweet fruit generosity – dark plum, fresh figs and sticky date pudding – provides the first suggestion of a Shiraz presence.
Penfolds Koonunga Hill Chardonnay |
Australia
An elegant and confident Koonunga Hill. Fresh fruits are at once captivating, alluring – white stone fruits, grapefruit, kiwi fruit and lemon citrus. Subtle nuances of nougat and white blossom add complexity. Pure fresh fruits adorn the palate, with an enhanced emphasis on the citrus spectrum of lemon and lime.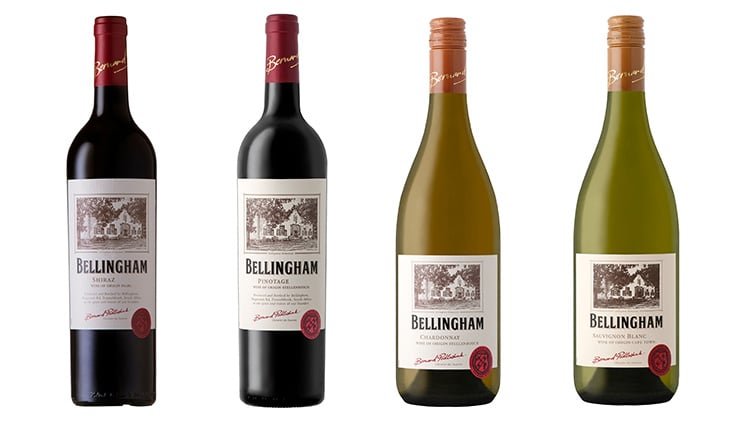 Bellingham Homestead Pinotage |
South Africa
Nose: Sweet spices, plums and mulberries with hints of vanilla
Mouth: Ripe and juicy Raspberry, strawberry and black cherry flavours supported by well-integrated oak spice and an exciting tannin structure.
Bellingham Homestead Shiraz |
South Africa
The Shiraz has an intense dark ruby red colour with flavours of plums, blackcurrants and pepper with hints of dark chocolate and mixed spice. On the palate, it boasts with blackberry fruits, violets and black pepper.
Bellingham Homestead Sauvignon Blanc |
South Africa
Beautiful light, pale yellow with a golden tinge, soft melon, pear and citrus flavours on the nose. The palate offers an expected burst of citrus and tropical flavours with a crisp and clean finish.
Bellingham Homestead Chardonnay |
South Africa
This Chardonnay has a rich yellow with a copper glow with delightful Butterscotch, spicy cloves and orange peel aromas. Layers of citrus and melon lines the palate finishing with a citrus-lime freshness.
Trivento Malbec Reserve |
Argentina
Vibrant red with violet tones and elegant aromas of berries and fresh herbs that follow to the palate with intense body, round and sweet tannins and a persistent finish.
Trivento Chardonnay Reserve |
Argentina
A brilliant gold tinged with green whose expressive mix of apple and banana aromas are touched off with pleasant vanilla notes from the 3 months aged in French oak. Silky yet fresh sensations of Trivento Reserve Chardonnay make way for a delicate finish.
Boschendal Lanoy Cabernet Sauvignon |
South Africa
Bright mulberry and blackcurrant with riper plum notes and classic tobacco spiciness. On the palate, it an attractive burst of rich dark fruits showing mulberry, black currant, ripe plum and spice aromas that carry through to a smooth, juicy entry supported by ripe tannins and just discernible cigar box spiciness. Well integrated and smooth, with a lingering rich finish of dark berry fruits. Ripe tannin imparts of good drinkability that offers a broad appeal.
Boschendal Jean Garde Unoaked Chardonnay |
South Africa
On the nose: Lively, with attractive aromas centred on lime and yellow fruit, tinged with fragrant spring flowers. Palate: Bursts with lush, ripe, fleshy peach and melon fruit. Balanced with a lively zest of orange citrus fruit for a deliciously riveting finish.
Boschendal Le Bouquet |
South Africa
On the nose: Tropical pineapple-led fruit and peach with spicy undertones, and a lingering floral aroma of honeysuckle and frangipani. Palate: This medium-sweet wine has a delicate freshness and a juicy fruit core, embracing characters of peach and apricot with hints of cinnamon and honey. Tantalising vibrancy and smooth, with an tangerine finish.
Boschendal The Rose Garden |
South Africa
On the Nose: Enticing crushed summer berry aromas. Palate: Soft and juicy, bouncing with succulent ripe strawberries, raspberries and mulberries tinged with a hint of spice. Finishes with great balance, freshness and fruity intensity.
19 Crimes Cabernet Sauvignon |
Australia
Bright red to crimson hues, this wine confidently takes charge with intense lifted vanilla aromatics balanced with red currants, violets, and mulberry fruits. Firm and full on the palate with a subtle sweetness giving a rich mouth feel.
19 Crimes Red Blend |
Australia
Defiant by nature, bold in character. Always uncompromising. Witness bright red to crimson hues: heed the intense, lifted vanilla aromas balanced with riper red to dark berry fruits that rise in defiance from the glass. The vanilla aromatics carry through on the palate and complement subtle flavours of chocolate and a cedary spice.
19 Crimes Shiraz |
Australia
Full and round on the palate with a subtle sweetness giving a rich and round mouth feel. The vanilla aromatics carry through on the palate and compliment subtle flavours of raspberries, dark plums, and chocolate.
19 Crimes Hard Chardonnay |
Australia
Bold and strong in character, this deep rich and golden Chardonnay is filled with stone fruit aromas and a sweet textured palate. The criminally intense toasty oak notes have hints of butterscotch and honey balanced with layers of ripe fruit.
Casillero del Diablo |
Chile
The legend began more than 100 years ago, when Don Melchor de Concha y Toro, founder of the winery, reserved for himself an exclusive batch of the best wines they had produced. And to keep strangers away from his special private reserve, he spread the rumor that the Devil lived in that place. Hence, the name Casillero del Diablo or Cellar of the Devil.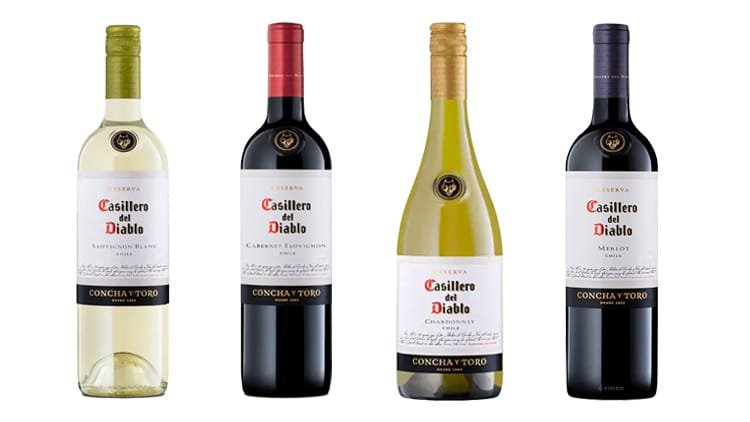 Casillero del Diablo Cabernet Sauvignon |
Chile
Bright, dark red, ripe cherries, blackcurrant, dark plums and a touch of vanilla and toasted American oak. Medium bodied with smooth and friendly tannins.
Casillero del Diablo Sauvignon Blanc |
Chile
Straw with green hues, Fresh, and citrus with hints of gooseberries and tropical fruit. Gentle, round and mouth-filling, balanced by a crisp acidity.
Casillero del Diablo Chardonnay |
Chile
Light, lemon yellow, fresh yet intense. Pineapple, citric and green apples with a backdrop of vanilla. Elegant and friendly with a long sweet finish.
Casillero del Diablo Merlot |
Chile
Dark and deep, dark plums, smoke, herbs and even a note of graphite. Hints of chocolate, spices, and a touch of toasted American oak. Mouth-filling texture, smooth but well structured.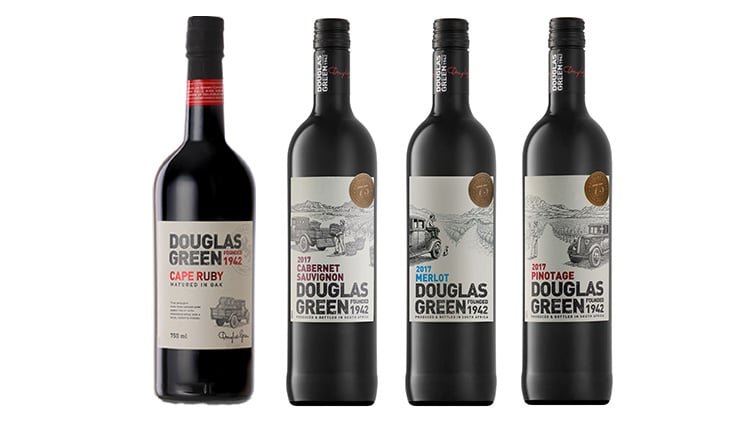 Douglas Green Cabernet Sauvignon |
South Africa
Deep ruby with a bright edge. Intense dark berries and blackcurrant aromas with attractive gentle smoky oak notes.
Douglas Green Pinotage |
South Africa
Generous ripe strawberry and raspberry fruit on the nose brushed with dark chocolate and caramel hints.
Douglas Green Merlot |
South Africa
Bright garnet with a bright strawberry rim. Packed with juicy black cherry and fleshy plum aromas.
Douglas Green Sauvignon Blanc |
South Africa
Overt pineapple, gooseberry and granadilla aromas carry through to a crisp dry entry and a surge of tangy tropical flavours that finish with a feisty acidity and delicate citrus twang.
Douglas Green Chardonnay |
South Africa
Tropical pineapple and honey melon aromas explode on entry yielding cohesive delicate lemon lime flavours.
Douglas Green Chenin Blanc |
South Africa
Brimming with a fruit salad of aromas including tropical pineapple, papaya, guava and granadilla with a subtle streak of green asparagus.
Douglas Green Rose |
South Africa
Exuberant crushed summer berries, glacé cherries, Turkish delight and a delicate spiciness that carries through to a surge of redolently ripe berry flavours.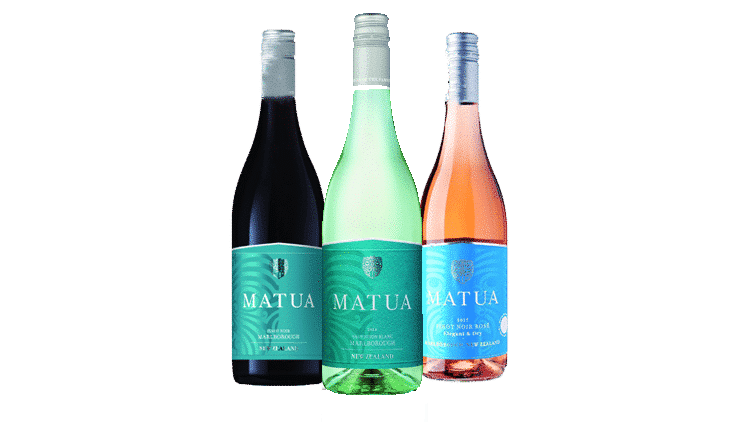 Matua Pinot Noir |
New Zealand
The vibrant crimson color and aroma of sweet red cherry and strawberry at the layered, fresh and fruity flavors in this pinot. Bright and energic to taste, it is brimming with layers of red fruit and bramble, seasoned with a dash of spice and light toasty notes. For the finale comes a fresh, lingering finish that is simply moreish.
Matua Sauvignon Blanc |
New Zealand
Refreshingly good! This is classic Marlborough Savvy, with bright aromatic herbal notes – think sage and fresh mint, backed up by those delicious tropical fruits the style is famous for. The palate has vibrant tropical fruits, with really delicious pineapple flavors this year all finished with great length and structure. This is a real doozie!
Matua Pinot Noir Rosé |
New Zealand
Refreshingly fruity, this Rosé is like a sip of summer! It's packed with deliciously ripe summer fruits. We're talking fresh strawberries, mandarin and a hint of cranberry flowing through to a crisp, dry finish. Mouth-watering good! Drink this wine with a fresh salad of mango and chopped mint with pan-seared fish and a drizzle of lime juice.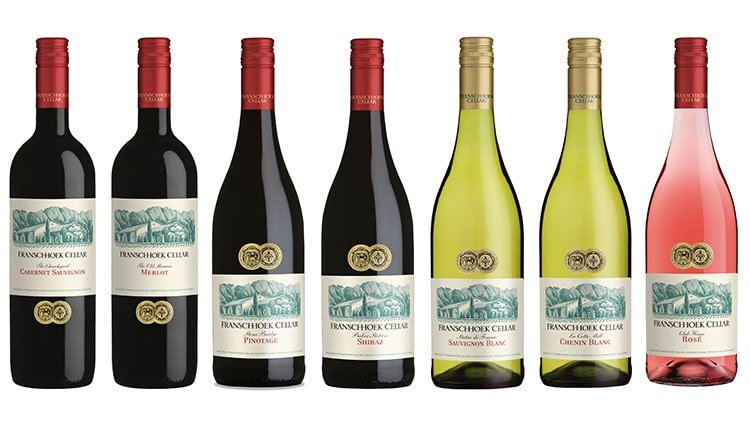 Franschhoek Cellar Cabernet Sauvignon |
South Africa
A wine with a great presence and poise, this Cabernet Sauvignon shows blackcurrants and violets on the nose, followed by concentrated dark berry flavours integrated with tobacco and spice from savoury oak, a rich mouthfeel.
Franschhoek Cellar Merlot |
South Africa
Bright ruby red with attractive plum and black cherry aromas tinged with herbal tea, liquorice and gentle oak spice. Soft and juicy with mouth-filling summer berry flavours that finish smoothly with sour cherry succulence.
Franschhoek Cellar Pinotage |
South Africa
Generous aromas of black cherries, clove and raspberry jam. A smooth
and juicy palate, redolent with ripe mulberries, and glimmers of tobacco
and spice from gentle oaking, is followed by an appealingly savoury finish.
Franschhoek Cellar Shiraz |
South Africa
Deep ruby with exuberant mulberry, plum, pepper and modest oak spice supported by soft ripe tannins that provide a well-structured and balanced juicy finish of pleasing length and finesse.
Franschhoek Cellar Sauvignon Blanc |
South Africa
Expressive tropical aromas tinged with capsicum open up to attractive Cape gooseberry, grapefruit and pineapple fruit flavours balanced by a lively but gentle coated acidity that follows through to a beautifully fresh finish of pleasing length.
Franschhoek Cellar Chardonnay |
South Africa
Radiant pale gold with a youthful green glow. Attractive pineapple and lemon & lime fruit purity with an intensity on both the nose and palate.
Franschhoek Cellar Chenin Blanc |
South Africa
Animated pineapple, fleshy peach, nectarine and honeysuckle aromas supported by a line of bright citrus and tropical fruit that blossom with leesy intrigue on the palate and finish with zesty freshness and grace.
Franschhoek Cellar Rosé |
South Africa
This crisp and dry Rosé is made in a classic Provençal style, according to the winemaker, with just a hint of sweetness and a fresh acidity. An appealing pink-tinged colour with sumptuous sweet red berries and cherries tinged with discreet spice.
The Ribshack Red |
South Africa
A full bodied muscular red wine with rich, ripe dark berry flavours and sumptuous smokey oak spice after wood maturation. This is a bold and expressive blend that balances the best of both Pinotage and Shiraz varietals with style and complexity right through to a smooth and juicy textured finish. The perfect red blend for any red meat whether at a BBQ for easy social sipping around the fire or ultimate enjoyment with a sizzling steak, sticky ribs, hamburgers or pulled pork. Smooth and fruity to best enjoy whilst young and juicy, yet its substantial structure will keep for up to 5 years from vintage.