Don Melchor Cabernet Sauvignon – 2009 |
Chile
Don Melchor set the trend for ultra-premium wines in Chile from its first vintage in 1987. The enological consistency of Chile's finest Cabernet Sauvignon has been lauded in journals around the world year after year. Barrelled for fifteen months in French oak, deep cherry-color, elegant and complex, with ripe red fruit, cedar, tobacco, and chocolate notes. On the palate, Don Melchor is well structured and nicely concentrated, firm and full-bodied. With a long finish and good balance.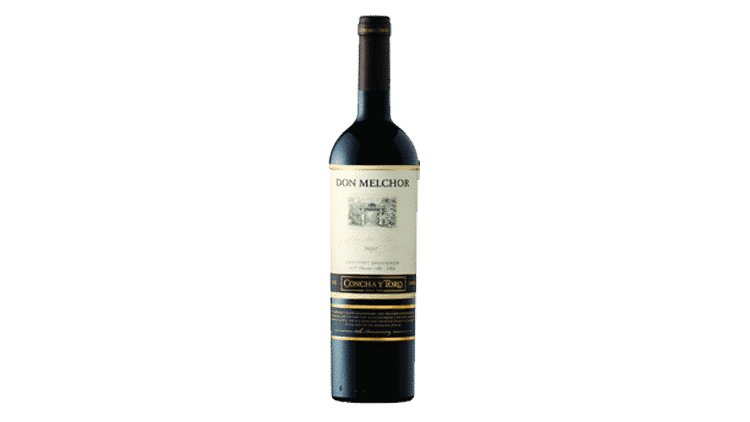 Penfolds Kalimna Shiraz BIN 28 |
Australia
Red-currants varietal primary fruits sitting alongside glacéed fruits…cherry, almond, musk. Nuances of tanned leather, aniseed, cooked rhubarb coalesce yet still exude their own aromatic contribution. earthy, organic. Shiraz-pan scrapings, game meat just, marrow reduction. Honest, true to style. Even and balanced across the palate. Freshness, juiciness with softened supportive.
Penfolds BIN 389 |
Australia
Expansive, explosive, exotic…a Bin 389 triple-ex palate rating! A wave/ surge of fruits and spice unleashed – propelled by tomato and tahini paste flavors. Juicy, succulent tannins engulf, alongside oak – adding volume, density. Mouth-coating in every sense. Long and lingering.
Franschhoek Cellar The Last Elephant |
South Africa
An exclusive red blend made from the finest batches the winery can produce every year.

An iron fist in a velvet glove. This small-production wine is boldly expressive and well-rounded.

The nose brims with moreish dark fruit, showing blackcurrants, cherries, mulberries along with cedarwood, lead pencil, and cigar box aromas. These develop in the glass and are joined by raspberry, spice, and a hint of gaminess on the palate. The flavors are powerful but elegant, with fine tannins that continue to soften in the glass. A wine that lives up to the mystical legacy of the gentle giants that once roamed the mountains of the Winelands.
Whispering Angel |
France
Today's market leader for "premium" rosé which has now become a year-round phenomenon.
Fresh red berry fruit characteristics with floral nose. Ripe and fleshy feel on the palate. Dry (zero sugar). Great concentration. Smooth and round finish. No astringent aftertaste or bite. Extremely easy drinking. No matter what style of wine you drink, everyone finds something in Whispering Angel that they enjoy and can identify with (from beginner to wine experts).
The Rock Angel by Whispering Angel |
France
Shiny and transparent pale rosé color. Delicate red berry aromas with mineral notes. A touch of floral as well as spice notes. A touch of oak adds a creamy feel and texture. Rich and racy on the palate. Firm acidity with a long and silky finish. Powerful and elegant. A classy wine. If you like the minerality of a Sancerre, you will love this…
The Palm by Whispering Angel |
France
Pale pink with green hues both of which are clear & very expressive. Great aromatic freshness on the nose followed by more subtle, fruity notes on the palate. The freshness is coupled with exceptional length and roundness. Crisp and suave finish.
The Pale by Whispering Angel |
France
Named after its transparent, pink colour, The Pale by Sacha Lichine embodies all the characteristics of an authentic rose from Provence. It is expressive both inside and out and bears great aromatic freshness on the nose followed by more subtle, fruity notes on the palate.  Its elegant palate pairs nicely with its colourful and playful label. Let The Pale transport you to the roaring twenties!
Mouton Cadet Reserve Saint Emillion |
France
ASPECT: A glittering garnet red with a slight crimson hue.
NOSE: The nose opens on spice notes, especially Malabar pepper and cinnamon, followed by airing by ripe red and black fruit aromas, especially wild strawberry, bilberry, and blackberry.
PALATE: A rich and very full attack on forward yet supple tannins leads into a stylish, fruit-filled mid-palate on blackberry and blackcurrant flavours, while mixed vanilla and mocha notes appear on the finish.
Mouton Cadet Reserve Medoc |
France
COLOUR: A glittering, deep garnet red.
NOSE: The nose opens on subtle blackcurrant notes before giving way to blackberry and mild spice flavours, especially star anise and vanilla.
PALATE: The powerful attack on rich tannins shows nicely extracted fruit while the concentrated mid-palate recalls the aromas found on the nose. The finish expresses the Médoc terroir in delicate touches of blackcurrant which combine perfectly with the refinement of the tannins.
Mouton Cadet Reserve Sauternes |
France
ASPECT: Straw yellow with a golden hue.
NOSE: The nose opens on intense Mirabelle and white peach aromas, then go on with airing to reveal delicate notes of cardamom and maple syrup.
PALATE: The delicate peach and apricot flavours of the round and full attack are joined on the rich and succulent mid-palate by attractive notes of Mirabelle and candied apple, leading into a fresh and dense finish that offers an array of fruit and mild spice flavours.
Mouton Cadet Reserve Graves Rouge |
France
ASPECT: An intense garnet red with a slight crimson hue.
NOSE: The nose opens on floral and ripe red fruit aromas, followed after airing by a touch of leather and paprika together with Burlat cherry and blackcurrant notes.
PALATE: From a supple and refined attack on delicate tannins, the mid-palate has an attractive complexity, revealing spice and floral notes, red and black fruit flavours, and a touch of leather, leading into a fresh and mineral finish.
Mouton Cadet Reserve Graves Blanc |
France
ASPECT: A glittering pale yellow.
NOSE: The nose opens on notes of hawthorn and jasmine, going on with airing to reveal a touch of lemon.
PALATE: After a long attack on citrus fruit flavours, especially lemon and grapefruit, the enfolding mid-palate is characterized by jasmine and hawthorn, leading into a lingering finish on mineral notes.
Bellingham The Bernard Series
The Bernard Series Small Barrel SMV |
South Africa
Deep ruby with a bright crimson rim. An entry of alluring black and red berry and cherry aromas layered with dark chocolate, winter spice, rose and violet on the nose carried through to an intricate intensely fruited palate that is both powerful and graceful.
The Bernard Series Basket Press Syrah |
South Africa
A powerful aromatic wine that is assertive yet delicate and refined, with ample cracked black and white pepper spice, hints of rich dark chocolate against a substantial red berry fruit foundation tinged with subtle floral suggestions of violets and dried indigenous fynbos. A generously structured wine with ripe tannins that promises further integration and complexity on cellar maturation for up to 10 years. This wine is particularly recommended with full-flavoured dishes like roast venison, aged fillet, and rump steaks, spicy sausages, or confit of duck.
The Bernard Series Chenin Blanc |
South Africa
A luminescent gold wine with rambunctious fleshy peach, passion fruit, honey melon, papaya, and pineapple fruit aromas layered with whiffs of oatmeal and crushed wheat that follow through with lavish concentrated fruit flavours from the nose-powerful yet accomodating on the palate with discernible.
The Bernard Series Bush Vine Pinotage |
South Africa
Deep ruby with tints of purple on the rim. Liberal black cherry, ripe mulberry, and raspberry con‑t aromas are followed by plum pudding, smoked meat flavours, and savoury hints of true, as well as good spice oak integration on the long, succulent ‑nish. Drinking well already, it promises to develop savoury richness, secondary intrigue, and de‑native smoothness with up to 10 years of bottle maturation. A sumptuous wine that is tremendously versatile with a variety of gastronomy including venison, duck, lamb, and beef dishes.
Marques de Casa Concha Cabernet Sauvignon – 2015 |
Chile
Dark and deep red. Very ripe and dense, remarkably focused flavor, offering solid blackberry and cherry flavors. At the end a lasting smoky yet rich black-tar. Firm in texture, with the grained tannins supporting bright fruit.
Marques de Casa Concha Merlot – 2013 |
Chile
Dark and deep red. Rich and deftly balanced yet muscular red, with layers of complex currant, spice, wild berry, and plum. Show off a nice touch of vanilla oak and mocha, adding a nice dimension.
Marques de Casa Concha Chardonnay – 2012 |
Chile
Light yellow. Combining richness with elegance and vibrancy this ripe, delicious wine serves up tasty and toasty hazelnut. Deeply concentrated with silky texture and layers of ripe, opulent ¬fig, pear and mineral flavours. It ¬finishes with a long and vibrant character.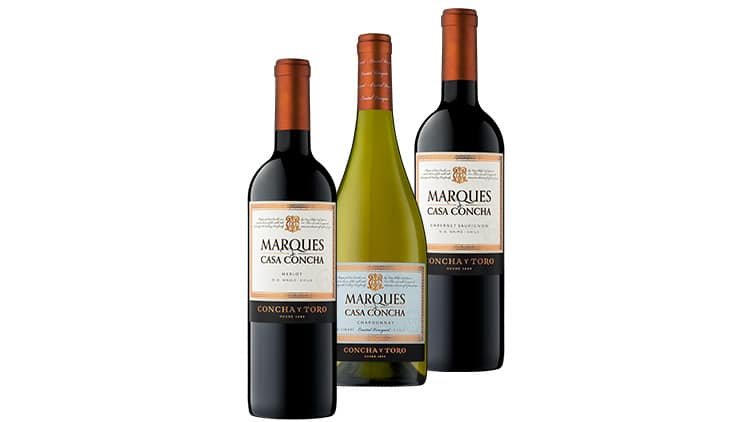 Boschendal 1685 Cabernet Sauvignon |
South Africa
A powerful wine showing varietal character combining dark red and black fruit. The primary impression on the nose is ripe black fruit with subtle oak spice and herbs, yet vibrancy and depth in its fruit expression. The palate expresses the vintage by bringing together the masculine firmness and length of the Cabernet Sauvignon with a juicy, yummy, fruit core. Seamless integration of oak spice and oak tannin entwined with the Cabernet masculinity adds real depth and complexity to the wine.
Boschendal 1685 Chardonnay |
South Africa
This bold statement wine, which is big on aromas and flavours, has a lemony, cinnamon and nutmeg nose. Palate: Zesty citrus and ripe tropical fruit flavours.
Boschendal 1685 Sauvignon Blanc |
South Africa
A melange of yellow and green tropical fruits with hints of citrus. A soft, fullbodied wine with a harmonious palate and coated acidity adding to the zesty, mineral finish.
Boschendal 1685 Merlot |
South Africa
Rich red cherry plum and pronounced ripe mulberry flavours. Good natural balance between primary fruit aromas, colour and structure extraction, rounded and integrated by subtle oak.
Boschendal Nicolas |
South Africa
Nicolas is proof that through adversity comes greatness. It is a wine with an excellent concentration of fruit, with prominent mulberry and plum flavours, as well as black forest cake notes of cherry, cream and mocha. The tannins are well integrated, fresh and chalky, with a rich, smooth mouthfeel and persistent spicy finish. While drinking excellently now, the Nicolas will develop further complexity with cellaring for up to 10 years. For a perfect culinary match, it is best enjoyed with sumptuous meat dishes like roast lamb and rosemary, or an oxtail stew.
Boschendal Chardonnay Pinot Noir |
South Africa
Exceptional wine-making yields an incredible sophisticated crisp, pale blush wine with outstanding finesse and elegance. The 2017 harvest resulted in remarkable fruit intensity whilst maintaining the characteristic freshness of this unique wine. Hints of strawberry preserve impart an intriguing aroma, characteristic hints of ripe red berries are also evident. A truly versatile Sommelier's wine, bliss to match with any cuisine. Best enjoyed in the fine company of exceptional friends.
Rise to the heights of altitude wines to the heights of altitude wines.
Terrazas Reserva Malbec |
Argentina
Elegant deep violet with ruby highlights. Intense fruit notes such as strawberry, blackberry, black cherry & plum. The aromas of licorice & rose are perfectly combined with bitter chocolate & smooth toasted notes, coming from barrel aging. On the palate, intense and well balanced, the tannins are smooth and well rounded. Long & elegant final with a great concentration of fruits.
Terrazas Chardonnay |
Argentina
Light yellow with green highlights. Its profile reveals intense white fruits like peach and abriot, freshly combined with delicate floral notes of jasmine. It is mouth-filling and gratifying. Deep & well-rounded with an excellent balance due to the acidity and natural sweetness which characterize our Chardonnay. It's aging in barrel gives it more complexity & roundness the final is elegant and persistent.